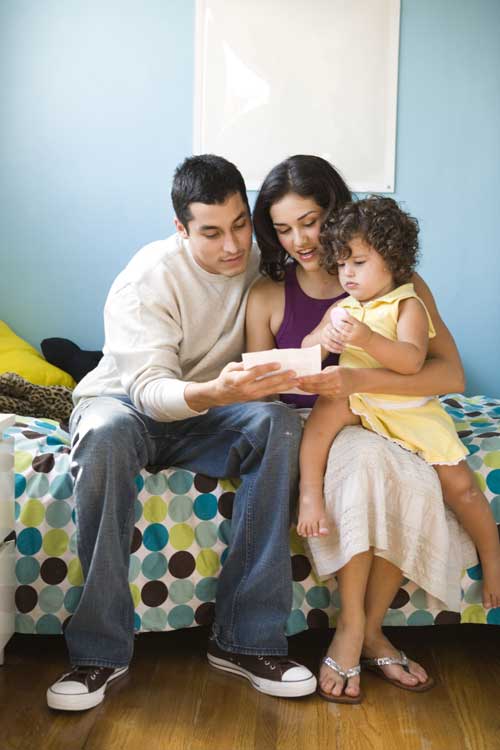 Have you been fighting the recession by cutting back on your savings? Earn more money to stay on track!
It's a sobering reality for many: In order to make ends meet, many people are skipping saving for the future. One-in-three workers (33%) say they don't participate in any long-term retirement savings plans like 401(k)s or Individual Retirement Accounts (IRAs), and 30% aren't saving anything month-to-month.*
If you fall into any of these groups, consider another alternative: Earning more money to save for the future. Taking on even a few hours of extra work a month can make a real difference! Many people just like you found a great way to earn extra money for savings by helping families with their finances. You don't need any special education or skills – just a desire to help people achieve financial freedom. Your Primerica representative can help you get started for very low up-front costs. For example, Lixa Dias, a housecleaner from Jamesburg, NJ, has saved $53,000** for her children's college education by working part-time as a Primerica representative since she started in 2008!
If you're among the many people who are skipping saving in order to make ends meet, remember, neglecting your savings can have serious long-term consequences for your financial health! Earning even a few hundred dollars a month as a Primerica representative could really make a big difference to your financial future (see chart below).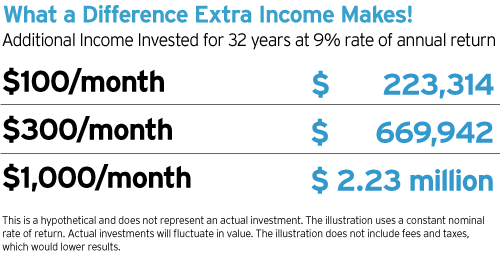 *Careerbuilder.com, viewed May 10, 2011
**Note: Primerica income figures are based upon rolling 12‑month gross cash flow (including advances) as of March 2011. The cash flows stated are not intended to demonstrate the earnings of typical RVPs/representatives. Rather, the cash flows that have been cited reflect the potential that comes with building your business, and there is no guarantee that you will achieve any specific cash flow level. Most RVPs/representatives do not achieve the levels illustrated. In the 12‑month period ending in December 2011, Primerica paid a total of $504,514,944 in compensation to the sales force at an average of $5,544 per licensed representative. Average RVP earnings are typically higher. Actual gross cash flow is, among other factors, dependent upon the size and scale of a representative's organization, the number of sales and the override spread on each sale, and the ability and efforts of you and your downlines. Having said this, Primerica provides a tremendous opportunity for individuals who work hard and who desire to develop a business with strong income potential.
Related