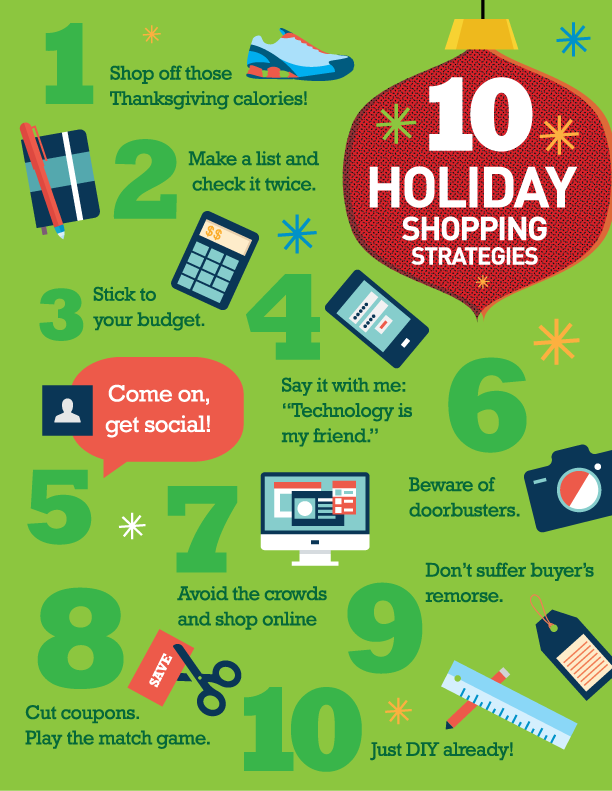 It's that magical time of year again! Bright lights, holiday music, the biggest shopping days of the year — Black Friday and Cyber Monday (the Friday and Monday after Thanksgiving). That means big spending, frenzied shopping and all kinds of holiday-induced chaos are just around the corner! Want to put the joy back into giving? Follow these 10 simple strategies:
1. Shop off those Thanksgiving calories! Want to shed some of those delicious holiday meal calories? Put on your comfy shoes and head out to the shops! What better way to celebrate your family than by picking out the perfect little something-something?
2. Make a list and check it twice. Have a plan! Make a list of who you're buying for and what you want to get them. That way you'll have a clear focus. If you're headed out to the shops, plan your route so you can save time.
3. Stick to your budget. You might score big-ticket items for a deal, but there will be more deals coming. Don't grab and go. Stick to your budget. Odds are, the deals will keep coming and what you save in one area can be reallocated if needed.
4. Say it with me: "Technology is my friend." There are tons of apps that allow you compare prices, scan bar codes and more! Make sure you're getting the most bang for your buck by taking your smartphone shopping with you.
5. Come on, get social! Most retailers post their best deals on Twitter and Facebook. Go ahead and friend the stores you'll most likely visit and get the scoop on deals early.
6. Beware of doorbusters. You can score some great deals, but know that they're called doorbusters for a reason: to get you in the door to buy higher priced items. Stay strong!
7. Avoid the crowds and shop online. If you want to avoid the frenzy, shop online. Stores will have deals throughout the holiday season — Cyber Monday — and beyond! Also, there are lots of voucher deals up for grabs daily on sites and apps like Groupon, Living Social and Pricegrabber.
8. Cut coupons. Play the match game. In addition to great deals, many stores will be sending out store coupons in flyers and via email. Clip and save! Some stores will match their competitor's prices. Save yourself some extra trips and find out who's playing the match game on the object of your desire before you go.
9. Don't suffer buyer's remorse. Retailers are becoming stricter on their return policies. Don't over-buy and hope to return for full reimbursement later. Some stores will only offer a credit even if you have a receipt. Also, do your recipients a favor and ask for a gift receipt.
10. Just DIY already! Want to cut costs and take a more personal approach to the holiday? Make some of your gifts. Not only are they from the heart, but think of the savings! And, between DIY bloggers and Pinterest, you can find out how to make just about anything on the Web.
Happy gifting!
Sources: money.usnews.com, viewed on November 18, 2013; CNNmoney.com, November 12, 2013; CSmonitor.com, November 7, 2013
Related