Even if you've never thought about starting your own business, now is a great time to become an entrepreneur.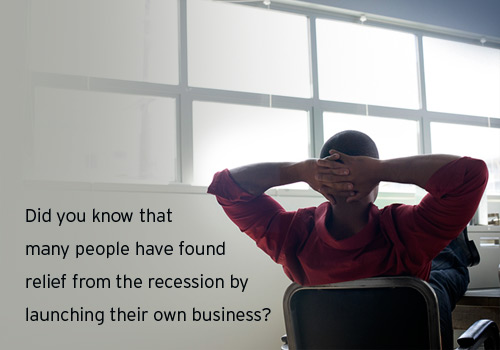 Did you know that many people have found relief from the recession by launching their own business? In the second quarter of 2009, nearly one in 10 job seekers found work by becoming an entrepreneur, and the pace of new startups has skyrocketed: a 100% increase in the first quarter of 2009 compared to the previous year.1
Many had never thought about starting a business previously, but necessity led them to take matters into their own hands. Here are a few reasons why you should consider it too:
Reason #1: The workplace is changing.
Even before the recession, companies were starting to rely less on traditional full time help and more on freelance or contractors. Approximately 30% of the U.S. job market is now made up of part time or contract employees and the self employed, and many experts predict this will swell to 40% by the end of the next decade.2 So stay ahead of the curve!
Reason #2: You can keep your full time job.
The security of a full time job can be a great place from which to launch your business. You have a guaranteed income, making the risks relatively low. Maybe that's why most entrepreneurs who launch their own businesses do so while still holding down full time jobs.3
Reason #3: It's fun!
If you're currently employed, you know the terrain: About half of all workers say they feel their current job is stagnant.4 If you're bored on the job, starting your own business on the side can be an energizing and creative way to increase your income.
With all these reasons to start your own business, don't you think it's time you considered it? The Primerica business opportunity is a great place to start. Here, you're in business for yourself using a proven entrepreneurial system, but you're never by yourself – you'll have the support of an entire company behind you!
Contact your local Primerica representative to find out more and to see if our opportunity would be a good fit for your needs.
1USA Today, September 30, 2009
2 Money, July 2009
3 Ibid
4 USA Today, September 21, 2009
Related