Promoting Ethical and Fair Insurance Business Practices
Primerica is proud to be a charter member of the Insurance Marketplace Standards Association (IMSA).
Since 1996, IMSA has had the sole focus of advocating the highest standards and ethics throughout the industry. Companies vie to be IMSA members but they have to uphold the best industry practices. Primerica has been a member since day one and must qualify for recertification with IMSA every three years.
Each member of IMSA vows to:
• Conduct business according to high standards of honesty and fairness and to render that service to its customers which, in the same circumstances, it would apply to or demand for itself.
• Provide competent and customer-focused sales and service.
• Engage in active and fair competition.
• Provide advertising and sales materials that are clear as to purpose and honest and fair as to content.
• Provide for fair and expeditious handling of customer complaints and disputes.
• Maintain a system of supervision and review that is reasonably designed to demonstrate the company's commitment to and compliance with IMSA's Principals and Code of Ethical Market Conduct.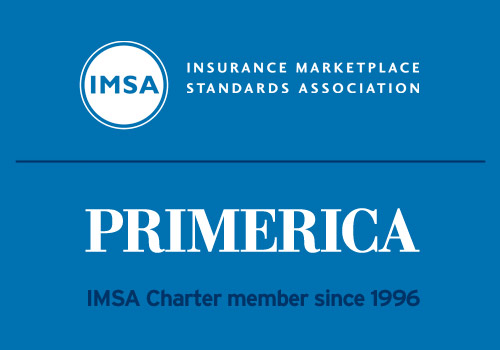 Related