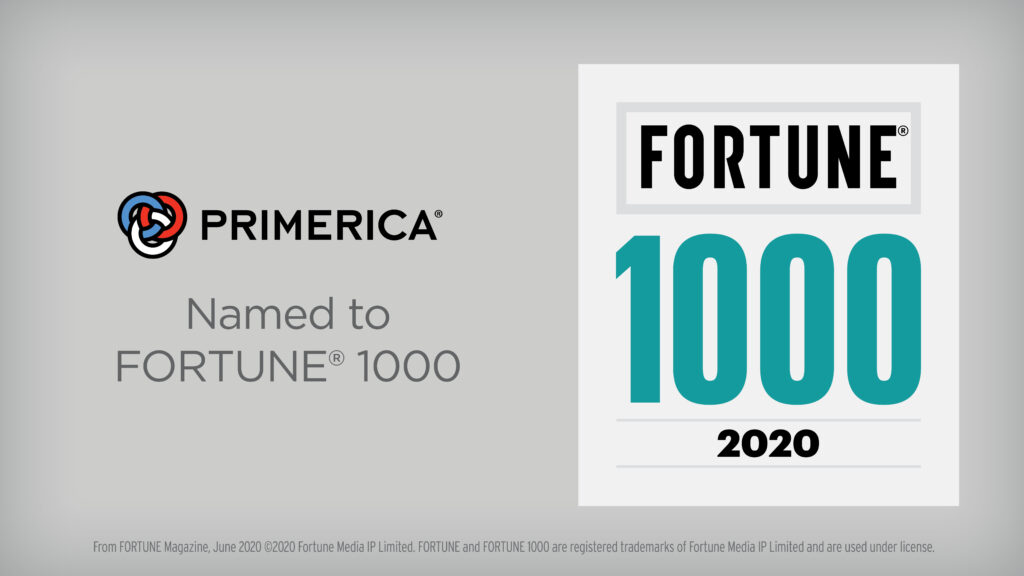 Primerica has been named to the 2020 FORTUNE® 1000 list for the first time in the Company's 43-year history. The Fortune 1000 is the annual ranking by Fortune Magazine of the 1,000 largest U.S. public companies, listed in order of reported revenue. With revenues of approximately $2.05 billion in fiscal year 2019, Primerica ranks number 980 in the most recent list.
"Our inclusion in the Fortune 1000 reflects Primerica's growth over the past four decades, which has been achieved by meeting the financial needs of hard-working families in the U.S. and Canada," said Primerica Chief Executive Officer Glenn Williams. "Our success is driven by more than 130,000 independent sales representatives and more than 2,000 employees who strive every day to serve our clients and our community. While we celebrate this recognition of our success, we are constantly reminded of those families who are being negatively impacted by the COVID-19 pandemic and we recognize our responsibility to assist them wherever possible."
Primerica, Inc. (NYSE: PRI), is a leading provider of financial products to middle-income households in the United States and Canada.
Read the press release.
1195387
From FORTUNE Magazine, June 2020 ©2020 Fortune Media IP Limited. FORTUNE and FORTUNE 1000 are registered trademarks of Fortune Media IP Limited and are used under license. FORTUNE and Fortune Media IP Limited are not affiliated with, and do not endorse products or services of, Primerica.  For more information, see https://www.parsintl.com/publication/fortune1000creditnotice2020/.
Related