The Primerica Foundation Donates Bio-Med Vehicle to Metro Atlanta Red Cross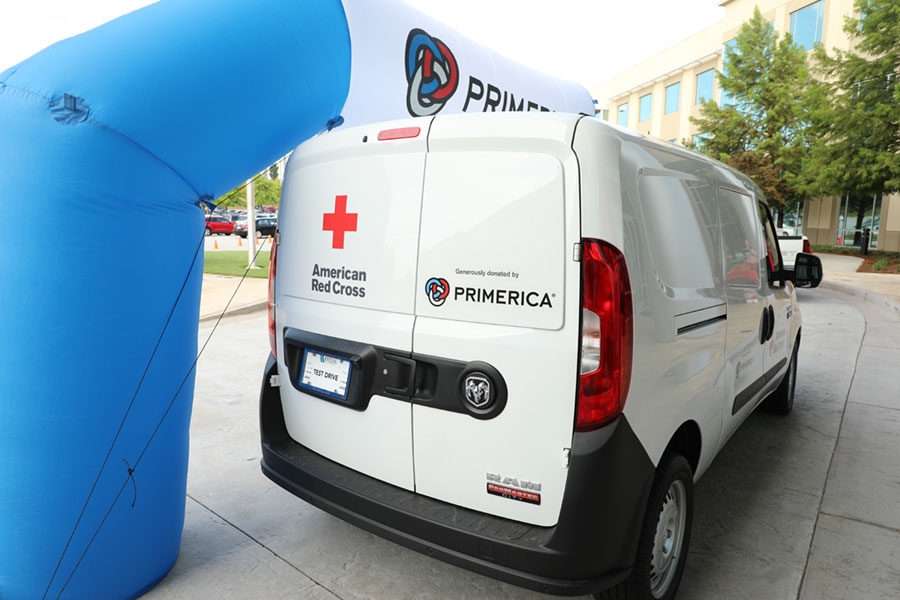 Funding from The Primerica Foundation recently purchased a new emergency bio-med vehicle for the Metro Atlanta American Red Cross – an effort that will enable critical life-saving measures to get where they need to go.
"These vans move blood back and forth between hospitals, and move people to blood drives," Wendy Tabron, Regional Philanthropy Officer with the Metro-Atlanta American Red Cross, said at a vehicle dedication ceremony and celebration held at the Primerica Home Office on Wednesday, August 14. "When there is not a disaster going on, these vans still need to move because the country still needs blood."
Wednesday's dedication ceremony was held to showcase the new van and to highlight the significant impact Primerica is having on the Greater-Atlanta community through its corporate and charitable giving, and more importantly, through personal blood donations. The Home Office held a blood drive for employees to donate on August 14, as well.
Tabron said, in addition to financial support, Primerica has participated in hosting more than 60 blood drives with the Red Cross, potentially saving thousands of lives. She thanked and praised the leadership of The Primerica Foundation for their eagerness to help and for being easy to work with over the years.
Primerica CEO Glenn Williams and Kathryn Kieser, President and Chair of The Primerica Foundation, thanked the crowd of employees who showed up for the ceremony and urged them to give blood if they could.
"In addition to all the great things we celebrate here at Primerica, I don't know of anything that is more important than this," said Williams. "Being able to add to your commitment and your sacrifice as donors by using some of The Primerica Foundation's funds to donate this bio-med van is an opportunity for us to impact lives in a special way."
Check out more in a local news article!
928507
Related