15 Ideas to Help You Earn Additional Income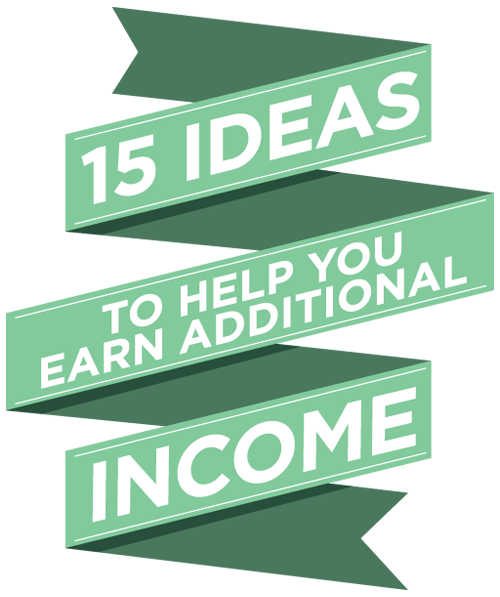 Know there are ways to earn extra income online, but not sure how to find what's out there? Here are some unique, interesting and unusual ideas:
Lease unused space. Have extra space in your home that you could rent out? Advertise a finished basement, studio apartment, or fully furnished room online. Going out of town for a while? Consider renting your whole house.
Market your property to production companies. If you think your property might be a winner with the film industry, list it on location registry websites for motion picture production companies. It could prove to be a very lucrative move if a crew wants to shoot there.
Shuttle people around. Have a car and some extra time? Pick up shifts when you can and earn money (and tips) in your area by driving people around in your personal vehicle using ride sharing apps. Don't need your car for a weekend? There are ways to rent it out, too.
Be a live audience member or answer a casting call. Find work on the set of films or live television shows by scouring daily listings for paid gigs in your area.
Test websites and provide feedback. Earn extra cash by completing tasks on websites or apps. Marketers pay to get inside the heads of their target customers.
Perform household tasks for clients. Answer requests to assemble furniture, help someone move, do general handyman or other tasks for pay as an independent contractor.
Do freelance work for your talents. Get paid for your creative skills, whether you're a writer, photographer, web developer or graphic designer.
Offer your tutoring services. Did you have a high SAT score? If you are a whiz in a particular subject, offer sharing your subject matter expertise.
Translate if you're bilingual. If you're fluent in a second language, advertise your services online.
Take surveys online. Companies will pay people to take surveys and express their opinions on products and services and issues that affect their daily lives.
Watch other peoples' children. Love kids? Sites geared to your local area simplify the process of finding baby-sitting jobs in your area.
Pet sit and/or walk dogs. If you have personal or professional experience watching or walking dogs, there are several online companies that will match you up with dog owners in your area that need your services.
House sit. Many people will pay others to house sit while they're away. Advertise your availability with house sitting services online.
Serve on a virtual jury. Be a virtual juror and make money while expressing your beliefs and opinions about interesting legal cases and helping the court system become more efficient.
Start your own business. Find flexibility and freedom in working for yourself while earning money at the same time. Interested in Primerica's business opportunity? Visit Primerica Business Opportunity or talk to a Primerica representative in your area for more details.
450962
Related