Tax Cut: Don't Spend It… Save It!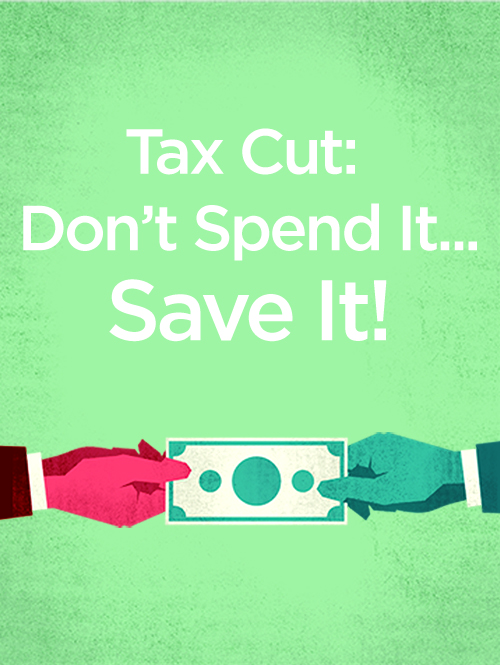 Last December, Congress passed the Tax Cuts and Jobs Act, giving many families the unique opportunity to go home with a bigger paycheck. Although the exact increase varies by income, the Tax Policy Center estimates that the average household will save about $1,600 per year.1
Because this tax law change was unexpected, it may give people the ability to solve long-term financial struggles without causing any short-term budgeting stress. Here are just a few of the ways to handle the extra money and put it to work for you:
Save for the future: If you could live on your paycheck before the tax law changes, you can most likely live on the same amount now. Simply because you can spend more, doesn't mean it's in your best interest! Saving even more money for your future is one of the top ways to make the most of your higher take-home pay.
Pay down debt: While we should always be working to eliminate debt, a paycheck increase is a great time to accelerate these efforts. The easiest way to build a positive net worth is to eliminate any credit card debt, student loan debt, etc. that stands in your way. Using this money to pay off debt will positively impact your financial future, regardless of how little or how much more you put down.
Build your emergency fund: An emergency often requires people to dip into their savings, causing an even greater unexpected financial burden. Set aside this money to cover unpredictable costs that may arise. This way when your car needs a pricey repair or the water heater breaks, you'll have a cushion to fall back on.
All in all, it's estimated that 90% of workers will see an increase in take-home pay this year.2 This type of opportunity shouldn't be taken lightly and may help you achieve your financial goals without affecting your day-to-day income needs. Don't miss the opportunity to use your money to your advantage, without having to change your lifestyle! What could be better than that?
Taxpolicycenter.org, "The TCJA Would Cut Taxes By An Average of $1,600 in 2018, With Most Benefits Going To Those Making $300,000-Plus," December 18, 2017
Marketwatch.com, "Mnuchin says 90% of workers will get more take-home pay under withholding change," January 11, 2018
Primerica Representatives are independent contractors. Representatives are not licensed to sell all products in all states/provinces. Representatives may provide products and services only to individuals in those jurisdictions where they are licensed or approved.
Life-licensed Primerica representatives are agents of certain affiliated Primerica Companies. In New York, term life insurance products are underwritten by National Benefit Life Insurance Company, Home Office: Long Island City, New York. In the United States (except in New York), term life insurance products are underwritten by Primerica Life Insurance Company, Executive Offices: Duluth, Georgia.
In the U.S., securities are offered exclusively by PFS Investments Inc. Advisory services offered through Primerica Advisors, which is the trade name under which PFS Investments Inc. conducts its investment advisory business.
441180
Related