Shop Smart When You Go Back to School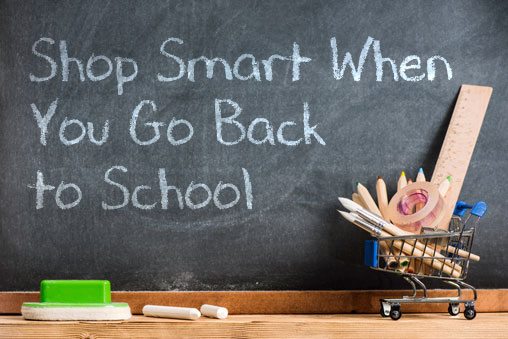 People are spending substantially more this year than last year on back-to-school shopping, and if you're a parent with school-aged children, you're probably bracing for the dent in your wallet right about now. In the U.S., families are projected to spend an estimated $83.6 billion (a 10 percent increase from last year), according to the National Retail Foundation's annual survey — that's on average $687.72 per child in elementary through high school and $969.88 per child in college.*
Don't want to be average? Set some guidelines for tackling those back-to-school expenses:
Contact the school/teacher
From books to backpacks to electronics, school supplies can get very expensive. Your first step to finding out what is absolutely necessary to send your child back to school is to contact your child's school or teacher and obtain a supply list. You can also look on the school's website to see if a school supply list is posted. If your school does not have a uniform policy, it would be wise to check the student handbook and be aware of what type of clothing/shoes may be off-limits.
Set a budget and stick to it – and plan for unexpected extras
Depending on your family size and how much money you make, this is a no-brainer. Remember back-to-school supplies won't be your only expense for the entire school year, so you'll want to save money where you can. There will be more unplanned expenses throughout the school year you'll need and want to meet, like fundraisers and school trips. And don't forget about extra curriculars, sports and clubs.
Make a list
Sit down with your child and make a list of what he or she needs and use the opportunity to teach them money lessons and how to be wise about spending and saving. Are there any school supplies left over from last year that can be reused? Can you purchase used electronics or textbooks instead of buying them brand new? Keep your eye out for good sales and discounts and check them off your list. Shop online and take advantage of deeper discounts and free shipping. Make these activities teachable moments while involving your child in the process. It's a great way to improve their financial literacy and can pay off big time in the long run.
*National Retail Foundation (nrf.com), "Back-to-School and Back-to-College Spending to Reach $83.6 Billion," July 13, 2017
17SOC42
Related