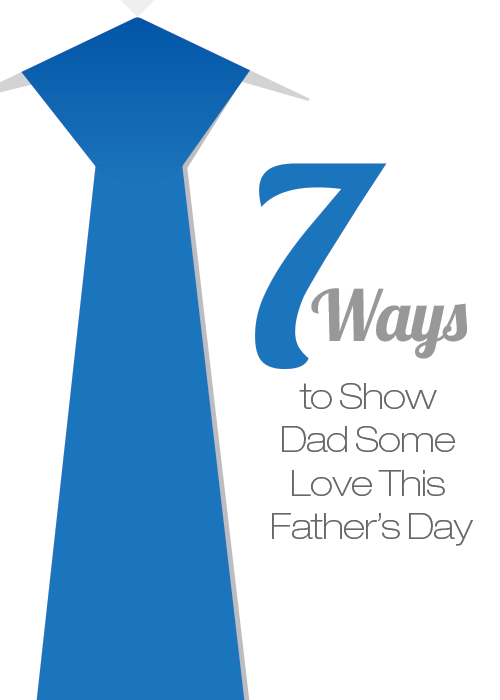 Father's Day is coming up on Sunday, June 19, 2016, and we've uncovered some cool ways to show Dad how much he means to you without breaking the bank.
Give the gift of time. If you're like most families, you're hustling and bustling trying to get everything crossed off your "to-do" list. This Father's Day, give Dad something precious — your time. Disconnect from everyday distractions like technology and plan a day that revolves around your favorite guy and what he loves.
Gift a lesson. Most fathers have taught their children plenty of lessons over the years, so why not repay the favor and gift your dad a lesson to a hobby he enjoys or is interested in?
Make his favorite meal. Is there a childhood favorite he loves? A dish at a restaurant he orders every time? Make it even more special by making it from scratch and presenting it to him!
Plan a day of "favorites." What does your dad like? Make a list and make a day out of it. Watch his favorite movies with him. Play his favorite songs. Go to his favorite places to visit, etc.
Create a short video tribute. Let Dad know how much you care and get it all on film so he can watch it whenever and however many times he wants.
Recreate an experience. Remember that time your dad took you fishing? How about the time he taught you how to build a birdhouse? Whatever your special memory is, try to recreate that moment and tell your father how much it meant to you.
Try a new take on an old favorite. Buy a white or light colored tie, some inexpensive permanent writing utensils or fabric paint from a local craft store and write Dad a message on the tie. He can wear it as a reminder of how much his family loves him and it will be a one-of-a-kind thoughtful gift!
Whatever you decide to do for your special guy, as long as your heart is in it you can't go wrong. Happy Father's Day to all of the fathers out there!
16PFS244
Related