Primerica Canada is 30 Years Old!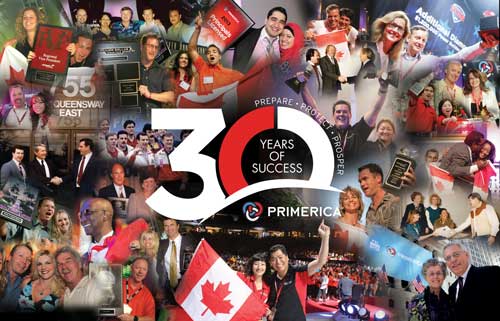 Primerica Canada is celebrating its 30th birthday all year long. Back in 1986, we started out with just a few representatives and a new idea. We would offer quality term life insurance to Main Street families because we believed then and still do believe it to be the best way to provide them with quality products at an affordable price. Now Primerica Canada is a top 10 insurer in the country, with $100 billion of life insurance in force. And we boast the largest independent life insurance and mutual fund sales force in Canada!
Thirty years of helping families prepare, protect and prosper. Thirty years of changing lives. What will the next three decades bring? We can't wait to find out.
16SOC09-2
Not all products/services are available in all states or provinces.
In New York, term life insurance products are underwritten by National Benefit Life Insurance Company, Home Office: Long Island City, New York; in the United States (except in New York), term life insurance products are underwritten by Primerica Life Insurance Company, Executive Offices: Duluth, Georgia.
Term life insurance and segregated funds are offered through Primerica Life Insurance Company of Canada.
Related