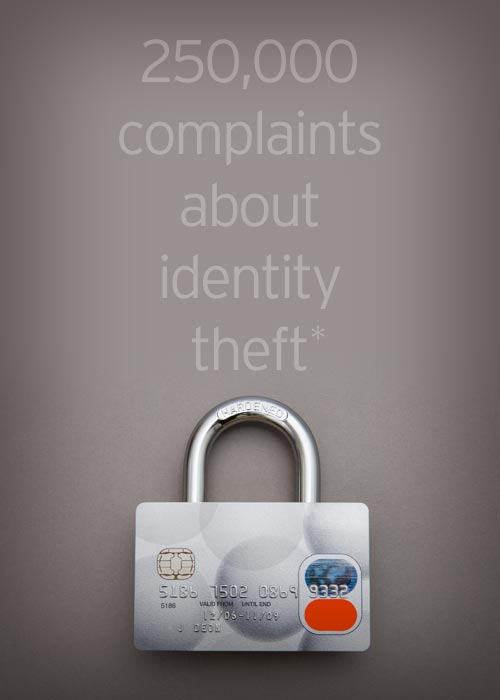 The Federal Trade Commission received more than a million consumer complaints last year, and identity theft topped the list for the 11th year in a row.1 The FTC reported more than 250,000 complaints about identity theft in 2010, representing 19% of the total complaints received.
Identity theft scams are becoming more prevalent online. About 45% of consumers reporting fraud said the transaction was initiated by email and 11% claimed it was through a website.2

Here are four tips to help you protect against identity theft:
Check your accounts regularly. Kiplinger's suggests spending a few minutes online every day looking at your bank and credit card accounts.4 Make sure you can recognize every transaction. By making this a habit, you can detect suspicious activity before it's too late.
Watch your phone! If your phone gets lost or is stolen, someone could have access to more than just your email. According to AdaptiveMobile, security attacks on smart phones were at an all-time high in 2010.3 Keeping your phone locked is a start, but it won't prevent tech-savvy thieves from breaking in. Make sure you log out of any bank apps or sites where your financial information is stored as soon as you're finished. Many smart phones also offer remote wipe-out services that will automatically erase any information on your phone if you claim it as lost or stolen.
Don't be fooled by an email. Many scams start with an email. You're probably aware of scams that claim to award money or transfer wealth from a foreign country, but identity thieves are getting smarter. It's becoming more and more common to get an email from a legitimate company asking you to log in to their website. Clicking the link takes you to a malicious copycat site that can steal your login credentials. If you ever doubt an email, call the company or open a new browser and go directly to the website.5
Be smart on social networks. Be careful about what you post on social networking websites because this is one of the main sources of information for many identity thieves. If your name, phone number, address and date of birth can all be found on Facebook, you're giving identity thieves a head start! Check your privacy settings on any website to ensure your personal information isn't open to the public.
If you're looking for more protection, ask your Primerica representative how the identity theft coverage included with Primerica Debtwatchers™ can help you safeguard your credit. See https://my.primerica.com for additional Important Disclosures.
Money.CNN.com, viewed December 7, 2011
Money.CNN.com, viewed December 7, 2011
Kiplinger.com, viewed December 8, 2011
Money.CNN.com, viewed December 7, 2011
Finance.yahoo.com, viewed December 7, 2011
Related