Primerica recently debuted some new video/Web new technology to help its representatives to interact with teammates, clients and prospects in a brand new way.
Similar to SkypeTM, Primerica Ring is great because leaders can conduct meetings, training and follow-ups remotely. Have a client who is pressed for time? Give them a "Ring"! Can't make that meeting across town because of a traffic jam? Find a Wi-Fi source and dial in!
Another great thing about Primerica Ring is that you can conference in multiple people at once. All you need is a using a high-speed Internet connection and Web cams. You can chat "face-to-face," share documents securely, make interactive transactions for products and more!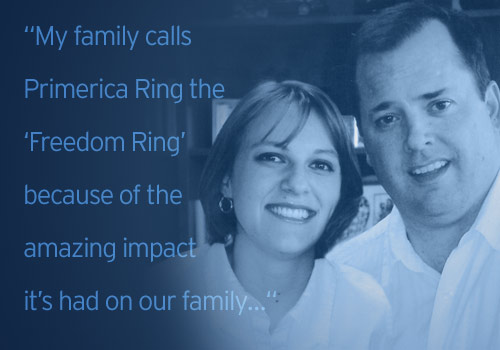 Letting Freedom "Ring"
Senior Vice President David Lipsit of San Antonio, TX, says that Primerica Ring has had a huge impact on his business.
"My family calls Primerica Ring the 'Freedom Ring' because of the amazing impact it's had on our family and for me personally," he says.
Lipsit suffered a catastrophic injury while playing college football at the University of Nevada Las Vegas about 20 years ago before he became a Primerica representative.
"One of my biggest struggles was getting to the kitchen table," he relates, "but now that I use Primerica Ring I'm just a mouse-click away from the kitchen table and it's had a huge impact on my business.
"With Primerica, the more people you see, the more people you can help," Lipsit says. "Primerica Ring has been great for me because I can train representatives via video conferencing. I can also have top leaders in the company dial in to give motivational presentations to my team without that leader ever leaving their home or office!"
The new technology has also created a huge buzz among his clients. "I can send a link out to my clients and we can have a face-to-face meeting online," he says. "No other technology has had the impact of my business, my clients or my family life as much as Primerica Ring has," he smiles.
Related