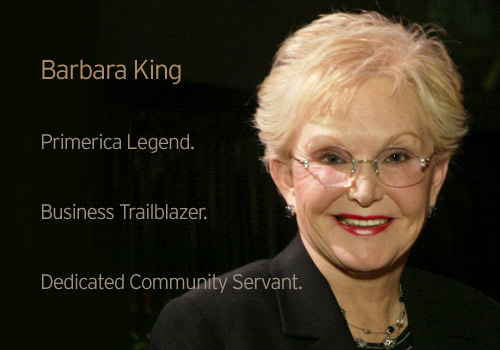 If you've ever lived in Gwinnett County,Georgia, you've probably heard of Barbara King. She's a long-time community servant and a retired Primerica legend. She was with Primerica leadership as they began this company, and managed to dedicate her whole self to the company, her family and her community … all at the same time!
This year, the prestigious United Way Women's Legacy of Gwinnett will award King for her service with the first-ever Anna Shackelford Legacy Award. This award is given to honor her continued commitment to her community. During the ceremony, local philanthropists and volunteers are awarded for Time, Talent, Treasure and Legacy. King has certainly exhibited the volunteerism and dedication required for this honor.
She was certainly instrumental in developing Primerica's TV network, publications department and Women in Primerica program (among countless other efforts), but her commitment has extended to many other organizations over the years, including:
• The Gwinnett Coalition for Health and Human Services
• The Georgia Partnership for Excellence in Education
• The Gwinnett Philharmonic
• The Georgia Council on Economic Education
• Gwinnett Technical College
• Annandale Village
• The Board of Advisors for Georgia Gwinnet College
• The Gwinnett Chamber of Commerce, Board of Directors and Executive Committees
• Georgia School Board of Education
• Atlanta Convention and Visitors Bureau
• New York City YWCA Academy of Woman Achievers
In essence, as Women's Legacy Leadership Council Member, Carole Boyce, said, "There is nothing that epitomizes the word 'Legacy' more so than Barbara King."
To get more information about the United Way Women's Legacy of Gwinnett and how they serve the community, send an email to [email protected] or click here.
Related