The elderly population in Gwinnett County is growing, and while the county provides a multitude of services to make sure those who are "60 plus" are well taken care of, resources can sometimes become strained. Rather than see older citizens go without, a dynamic group of giving individuals volunteers their time, talent and cash to help local seniors maintain their dignity during their golden years.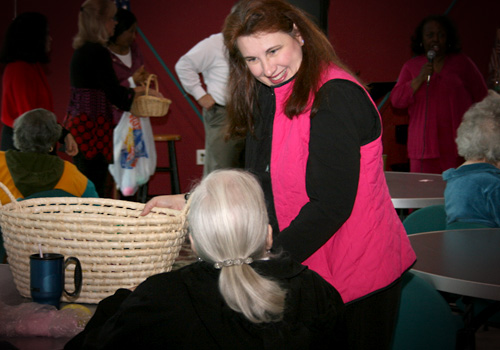 For 10 years, the Friends of Gwinnett County Senior Services (Friends) has assisted the county's elderly by privately supporting or supplementing a variety of programs that directly address senior needs. One outstanding Primerica employee, Pam Tokarz, sits at the helm of Friends, directing aid efforts and drawing other Primericans into the volunteer fold. Tokarz has worked with Friends for five years. Before that, she volunteered at the Norcross Senior Center through a program sponsored by Primerica. Every quarter several Primerica employees would go to the Norcross Senior Center and serve the residents their lunch, play games, sing songs and visit.
Through volunteering at the Norcross Senior Center, Tokarz met Pat Port, who coordinated these events for Primerica and she also served on the Friends board. Port invited Tokarz to the board of directors meetings and she began volunteering at their fundraising activities. Before long, she joined the board. Tokarz became Friends' president in January 2008 and is currently serving her second term as leader.
Food for the Soul
One of their most well-known partnerships is the Meals on Wheels food delivery program. Through Meals on Wheels, Friends annually sponsors many of its clients for meal deliveries. The non-profit group has also donated vehicles to Gwinnett County Senior Services. These autos are equipped with GPS systems.
Tokarz remembers the days when her grandmother was a recipient of Meals on Wheels. Gratefulness for the program – and a rearing based in service – propelled her to Friends. She says it's a perfect fit. She adds proudly, "Friends is 100% run by volunteers and we are fortunate to have some very talented and service-oriented board members and volunteers. They come from all walks of life and are dedicated to helping seniors."
More than Meals
As part of their tenth anniversary celebration in March, Friends board members went to the Lawrenceville Senior Center and visited with the residents. The 80 seniors in attendance played a "Name that Tune" game with selected songs from the 1940s and 1950s. A "Senior Idol" song competition sprang up, as well, and then morphed into a senior trivia game. Board members gave out gift basket prizes and every senior received an Easter egg. Tokarz recalls, "It was fun to see the seniors enjoying the music from their era and they really got in to it."
It's times like these that make Tokarz sure that she'll work for Friends until she can't physically do it anymore. Until then, she has a personal goal to reduce the number of seniors on the waiting list for services. The current monthly average on the waiting list is 190 seniors – up 43% from 2008. Tokarz says the needs are great and growing, and she invites any takers to get involved.
To get info on the Friends-hosted fund-raisers like the Crawfish Boil, Outback at Work Charity Lunch and their annual silent auction, visit the Friends of Gwinnett County Senior Services Web site at fogcss.com.
Related