Three Ways to Cut Housing Costs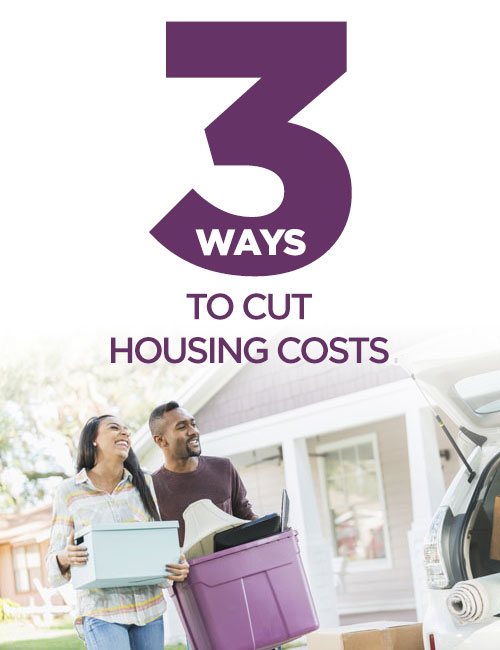 A rise in consumer cost of living suggests Americans may be earning less than they were a year ago, but spending more on housing. The Department of Labor found that consumer prices climbed 2.9 percent in July – the fastest rate in 10 years – and most of this increase was reflected in higher housing costs.1
One new report asserts the median rent nationwide is now $1,445.2
For middle-class Americans living predominately paycheck to paycheck, that's not good – considering that the cost of housing generally takes the biggest chunk out of a household budget.
If you're feeling the pinch of too-high housing costs, here's what to do:
Budget to spend less. When shopping for housing, experts recommend budgeting to spend 30 percent (or less) of your salary. In expensive cities like San Francisco or NYC, that may be harder to do, but whatever your geographical area, if you're in the market for a mortgage – or looking to rent – it pays to be frugal.
Get a roommate. Your home life doesn't necessarily have to look like an episode of Friends, but sharing the costs of living with another person can save you tons of money. It doesn't have to be forever – just long enough to make it financially worthwhile. As long as you pick a responsible roommate who has a job, dealing with another personality for a year or two just may be worth it.
Rent a room. Renting a room in your house to a student or young professional can help offset high housing costs. You may need to share some common space, but as long as the outcome is financially beneficial to you, and provided you've vetted the person you're renting to, it should be a worthwhile way to drive down costs.
CBSNews.com, "Cost of Living Increasing at Fastest Rate in 10 Years, " August 10, 2018
CNBC.com, "Millennials, Here's How to Set a Realistic Budget," March 22, 2018
573791
Related