Primerica and Gwinnett County Senior Services: Delivering More Than Meals to Area Seniors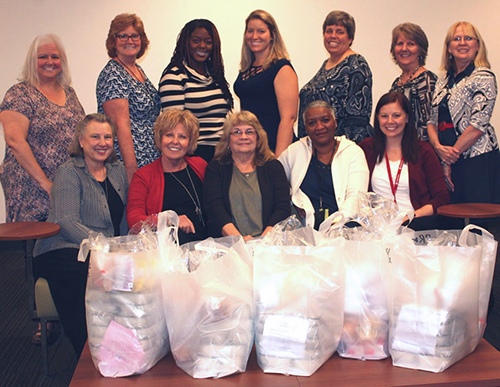 There's a gratifying feeling in making a difference in the life of a senior. That's what keeps many of the Primerica volunteers with Meals on Wheels coming back for more.
For the past 25 years, through a partnership with Gwinnett County Senior Services, Primerica home office employees have volunteered to deliver meals to the homes of local seniors who are either homebound or unable to prepare their own. It's one of the longest running employee volunteer programs at Primerica, and Primerica is one of the longest running corporate sponsors of the program in Gwinnett.
The partnership was started by former employee Nancy Prince, who, after witnessing her parents benefit by receiving Meals on Wheels, decided to involve the company with Gwinnett County Senior Services. The arrangement allowed Primerica employees to use their lunch hours to drive meals to seniors near the home office.
Most of the employees who currently volunteer have been doing it for at least 10 to 15 years. There is even a waiting list for employees who want to volunteer their time.
At the helm of Primerica's Meals on Wheels program is Cheryl Romage, HR Specialist, who has headed up the training, scheduling and coordinating of the volunteers for the past 21 years.
Romage, who was recognized for her dedication and volunteer efforts with Meals on Wheels in November at the Friends of Gwinnett Seniors Delivered with Hearts Awards ceremony, says she's just doing her part to help out the local community.
"I know how important it is to remain independent and in your own home surrounded by things you love as long as possible," says Romage. "I like to think that I do my part to help with that."
For most of the Primerica employees who volunteer, that same feeling of fulfillment is the reason they have become long-term volunteers.
One shining example of this is Joy Doss, who has been delivering meals to seniors for more than 16 years. For Doss, being a friendly face to the seniors she delivers to is the most gratifying part.
"I enjoy interacting with the seniors when we deliver the meals," says Doss. "We always take a few extra minutes to speak to them and see how they are doing."
For Melody Biederman, who started volunteering over 20 years ago after her own grandmother passed away, involving the seniors she gets to know in engaging conversation about their family members is something she thoroughly enjoys about volunteering.
"Every time I deliver, I inquire about their family, giving them an opportunity to share the good news in their lives," says Biederman.
Pam Tokarz, who has volunteered with the program and has served on the Friends of Gwinnett Seniors board, a non-profit organization affiliated with Meals on Wheels for 17 years, calls her involvement with the Gwinnett senior population "a passion."
"If I can bring them a little cheer and brighten their day, it's worth the time it takes out of my day to deliver the meals," says Tokarz. "The seniors are always so friendly and they really appreciate us delivering the meals right to their doorstep. Most people don't realize that we have seniors right here in Gwinnett that need these meals every day to survive."
"I'm proud to work for this amazing company that allows us to volunteer to deliver meals to seniors," says Tokarz. "We truly make a difference!"
460145
Related