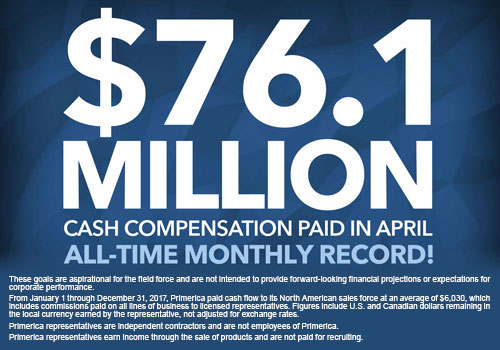 Primerica just paid out an all-time one-month record of $76.1 million in cash compensation in April. This record shows that Primerica is helping more Main Street families than ever before, and our Opportunity, products and solutions have never been better.
We have more leaders than ever hitting milestones, making a difference and creating a lasting legacy for their families. Right now, leaders are focused on breaking more records, crossing over milestones and reaching big goals by the 2019 Convention.
497306
These goals are aspirational for the field force and are not intended to provide forward-looking financial projections or expectations for corporate performance.
From January 1 through December 31, 2017, Primerica paid cash flow to its North American sales force at an average of $6,030, which includes commissions paid on all lines of business to licensed representatives. Figures include U.S. and Canadian dollars remaining in the local currency earned by the representative, not adjusted for exchange rates.
Primerica representatives are independent contractors and are not employees of Primerica.
Primerica representatives earn income through the sale of products and are not paid for recruiting.
Related