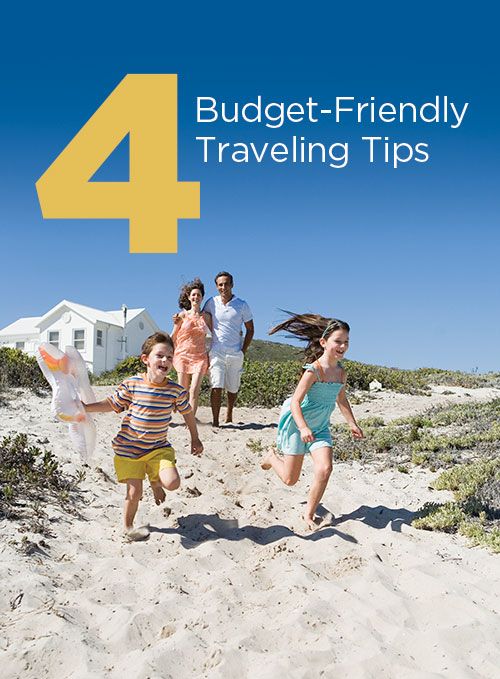 There are ways to travel and be frugal at the same time. Here are four:
1) Pick an 'off-season' destination: Choosing a vacation destination to go to during its "shoulder" or "off-peak" season has numerous advantages. For starters, the less touristy the spot, the better deals you'll be offered on everything from airfare to lodging, not to mention it'll be more secluded when you get there. No matter if you're trying to get away for a few days or a few weeks, there is a destination out there that is perfect for your trip. Focus on the experience and what you'll get to do and see that you wouldn't get to do at peak season.
2) Book competitive travel fares: Understanding peak tourist seasons in different parts of the world is critical to getting good deals. Being flexible with travel dates (and times) also helps. Airfares to Europe are less expensive as the weather gets cooler and some tropical regions get cheaper as the weather heats up. Give yourself some wiggle room with trip details – like possible layovers and flight times. Passing on a direct flight, flying stand-by, or taking a "red-eye" can potentially save you a lot of money. Have a few hours before a connecting flight? Get out of the airport and go explore the city. Just don't forget your boarding pass!
3) Consider alternative accommodations: Whether you stay in a hostel, rent private property, stay with friends or try your luck trading dwellings with a stranger, there are many less expensive alternatives to staying at your run-of-the-mill hotel. Most hostels have private rooms (even for couples) and can save you hundreds of dollars when compared to the alternative, not to mention all the great people you could meet on your trip. Where you stay is part of the overall adventure, so why not make it memorable?
4) Don't pay too much to eat and drink: The expression, "When in Rome, do as the Romans do," is cliché because of its universal application. When it comes to cuisine you'll get the most out of the culture you're experiencing if you shop where the locals shop and dine where the locals dine. Spending the day museum hopping? Go to the neighborhood grocery, fill up a picnic basket with popular deli items and find a nice spot to enjoy the meal and people-watch. Spending the night on the town? Scour the Internet for area dining reviews to find out where the locals eat.
17SOC8
Related