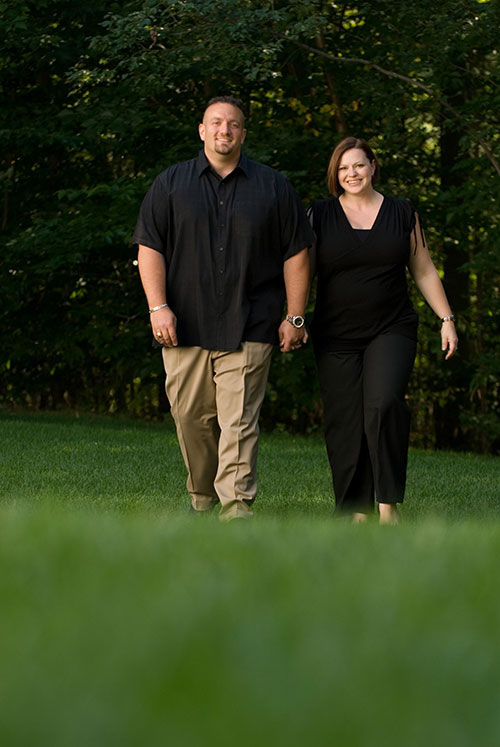 Dan & Kate DeFeo
West Bridgewater, MA
Former Occupation: Mechanic/Student
Former Income: $10,000
Primerica Income: $575,455*
Nothing But the Best
A few years ago, Dan and Kate DeFeo, of West Bridgewater, MA, were like many young couples. They worked average jobs – Dan as a mechanic and Kate as a social worker – and often struggled financially. "We lived in a 400-square-foot apartment on the second floor of an old farmhouse," recalls Kate. "The bathroom was so tiny you practically ran into the toilet just stepping through the door. The shower was a 3×3 foot stall. Our 'living room' was just a small room with a kitchen so Dan bought this horrible couch for something like $25 to divide it into a living area and kitchen."
Dan continues, "It had one small bedroom and no air conditioning. We finally bought a window unit but it didn't really work – so it was hot in the summer. Kate drove an old stick shift car with vinyl seats and no air conditioner so you can imagine how that was in hot weather!"
Like a lot of people, the DeFeos had a deep desire to "be somebody" and to create the kind of lifestyle that would allow them to give their future family the best life possible. But they just didn't know how. That's when they heard about the Primerica business opportunity.
Life On Your Own Terms
One of the most compelling things about being a Primerica entrepreneur is having the chance to create the kind of income and lifestyle that you want. Here, your success is entirely up to you – how big you grow your team, how many families you help and how strong your determination to change your life is.
The DeFeos weren't short on the latter – and their lifestyle today is a testament to not just their work ethic, but also their desire to give their children the best life possible. "When we joined, we were really excited about the possibility of making a lot of money and getting free," says Dan. "Today, we are still amazed that we have the kind of life that we do!"
The Best of Everything
Dan and Kate have come a long way since their tiny starter apartment. They enjoy a comfortable lifestyle in a 5,500-square-foot, three-story home with a large back yard. But more than the material, their Primerica income gives them options for their family that they never would have had without this business. "The most exciting thing to us about our life because of Primerica is we have complete freedom," reflects Kate.
She continues, "We no longer have to make decisions for our family based on money. We can give our three kids the best of everything. In fact, my favorite example is when our youngest was born. She developed Respiratory Syncytial Virus and became very sick. I took her to the doctor and they told me she needed to be admitted to the hospital. Because we have been able to purchase the best insurance policy for our family, I was able to take our daughter back to the nice hospital in Boston where she was born and had immediate access to the emergency doctors, with no waiting. That's just one way Primerica has changed how we live."
Dan adds, "When our kids want to do some activity, we can afford to give them the best. When you don't have to make decisions based on money, you can give the people you care about the best of everything!"
Living Free
Primerica is about freedom. It's why we educate our clients to make better financial choices and it's the reason entrepreneurs like the DeFeos work so hard to build strong, independent businesses. "I hated going to my mechanic's job every day and working for someone else," reflects Dan. "I hated being under someone's thumb. But here, Kate and I are free. We get to make our own schedule. We get up every day and choose what we want to do. It's not just that our income allows us to give our family nothing but the best. It's having the ability to call our own shots in every aspect of our lives. Freedom truly is priceless."
*Primerica income figures are based upon rolling 12‑month gross cash flow (including advances) as of September 2012. The cash flows stated are not intended to demonstrate the earnings of typical RVPs/representatives. Rather, the cash flows that have been cited reflect the potential that comes with building your business, and there is no guarantee that you will achieve any specific cash flow level. Most RVPs/representatives do not achieve the levels illustrated. In the 12‑month period ending in December 2011, Primerica paid a total of $504,514,944 in compensation to the sales force at an average of $5,544 per licensed representative. Average RVP earnings are typically higher. Actual gross cash flow is, among other factors, dependent upon the size and scale of a representative's organization, the number of sales and the override spread on each sale, and the ability and efforts of you and your downlines. Having said this, Primerica provides a tremendous opportunity for individuals who work hard and who desire to develop a business with strong income potential.
12PFS606
Related