Primerica Reps Lead a Local Hurricane Sandy Relief Effort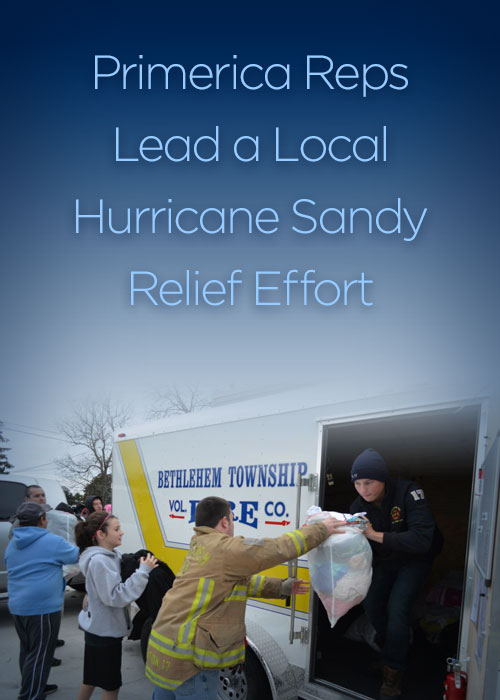 As the northeast recovers from the devastating effects of Hurricane Sandy, Primericans like SVP Chris Achong are standing up to do what they do best – help. From his Brooklyn, NY, home and office, Chris has a first-hand view of the recovery efforts taking place in New York and New Jersey. It was "instinct," he says, that led him to become involved. He took to Facebook to contact some other Primerica reps he knows, and what started as a small idea has blossomed into a full-scale movement.
"Just from my initial outreach, I have 10-15 RVPs who have donated stuff. There's even something from an RVP in Texas. In my office, I have an RVP helping and another 15 or 20 teammates on board, too," Chris explains.
One rep in particular, SRL Mark & Gina Kuronya of Allenton, PA, heard the call for help and got inspired. He contacted the local radio station and was able to garner so much publicity that he gathered enough community donations to fill a fire truck and trailer – provided by the fire department where Mark has been a volunteer firefighter for 20 years. That vehicle made its way to New York where the clothes, water, toiletries, nonperishable food and blankets were delivered to Chris Achong. "I've been a volunteer firefighter for 20 years and a Primerican for five. Chris said the shelters were in need of help. I love to help people, and we had the resources to do it," Mark says. "I mean, we really want to make a difference in the world."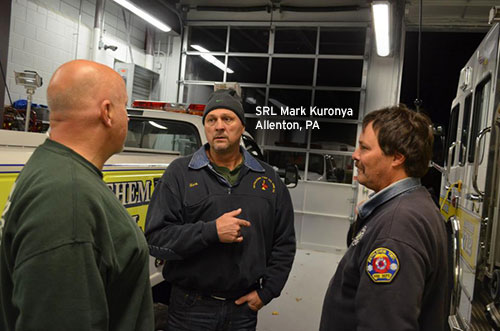 Mark says that the community really came through. Mark was recently able to take a second load up and deliver it directly to the NYC police department in Staten Island.
Where Does It All Go?
What is Chris doing with everything that Mark and others have helped him collect? He's bringing it to Under Minerva art gallery on 5th Avenue – a building that just happens to be owned by Chris. The gallery, which is usually open by appointment only except during shows, has been transformed into a bustling holding area for hundreds of bags of clothes and other supplies for families who have lost everything in the past few weeks.
Chris has made connections with several shelters in Staten Island and Queens, including one at York College that's being run by Regional Leader Richard Brown. With the help of other Primericans, Chris and his team have gone to sites of particular devastation and personally handed out supplies such as clothing, disposable diapers and wipes and canned food. The gas situation is precarious, they say, and delivering from their cars has been difficult to negotiate. That's why they recently rented a truck to make one big trip to deliver the supplies to where they're needed most.
[slidepress gallery='hurricane-sandy']
But good-hearted people shouldn't just start sending things, Chris warns. "There are tons of people out there who want to help and have no idea where to start. Call the shelters. They'll tell you what they need, and you can do your part."
To these good citizens, and to all of those affected by this storm, Primerica sends well wishes. Our thoughts are with you all.
Related